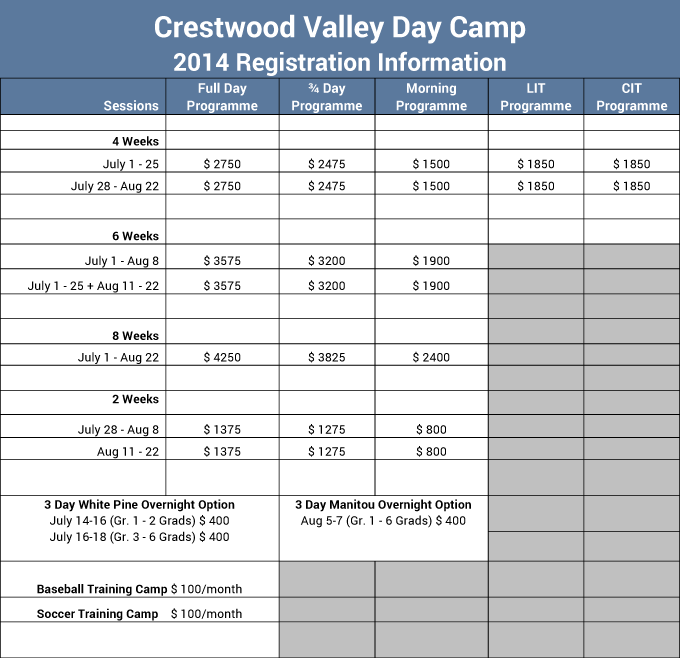 DOWNLOAD PDF of 2014 Fees & Dates (Right click and select "Save As")Please Note:
The first day of camp is Tuesday July 1st, 2014
Camp will be closed Monday June 30th AND Monday August 4th, 2014
At Crestwood there are NO hidden/extra charges
Our fees include: 

Door-to-Door Air Conditioned Transportation
Nutritious Hot Lunches and Snacks
Camper Knapsacks
Camp T-Shirt 
Cabin Photo 

Limited space for White Pine and Manitou Overnight, Baseball and Soccer Training Camps
Transportation will be on Coach Buses for the White Pine and Manitou Overnights 
ALL CAMPERS MUST BE TOILET TRAINED!
REGISTRATION POLICIES
1. APPLICATIONS *MUST* BE ACCOMPANIED BY A *CURRENT* $300.00 DEPOSIT.
2. Crestwood offers extensions of 2 or 4 Weeks ONLY!
3. No verbal registrations will be accepted.
4. The $300.00 deposit is non-refundable.
5. The discount fee for the full season, JULY AND AUGUST programme, will only be given if the double programme is requested before June 1st.  After this date, the charge will be for two (2) single sessions.
6a. If paying by cheque, A Post-Dated Cheque for the balance of fees should be mailed to the camp office upon receipt of acceptance.
6b. All fees must be paid, in full, by May 1st.
7. Changes made for both July and August sessions before April 1st will be accepted without charge.  *(Not all changes can be accomodated.) There will be an administrative charge of $25.00 for any changes made after April 1st, and before June 1st.
8. Changes made AFTER JUNE 1st will be subject to a $100.00 Charge! Not ALL changes can be accommodated as a result of full programmes.
9a. Discount for 2nd camper is $100.00 per month. The discount will be taken from the sibling attending the shorter programme.
9b. 50% discount for 3rd or more campers.  All campers must reside in the same home.
10. There will be a charge of $25.00 for each cheque returned from the bank due to non-sufficient funds.(N.S.F.).
CANCELLATION POLICY
1a. For cancellations made for any reasons, the deposit is non-refundable.    
1b. Cancellation requests are to be made, in writing, to the camp administrator.
1c. For Cancellations After May 1st But Before June 1st, 50% of Fees Are Available For Refund
1d. AFTER JUNE 1ST, NO REFUNDS WILL BE MADE OF ANY MONIES.
2. No refunds will be made for camp days missed due to illness or personal matters. Days missed cannot be made up in other sessions.
3. Should the camp be unable to operate programmes, pro-rated refunds / credits and/or 'make-up days' – are NOT available.