History
In 1989, Crestwood School purchased the beautiful valley at Lawrence and Bayview Avenue in Toronto, Ontario. In 1990, a select group of teachers and professionals created Crestwood Valley Day Camp, which opened that same summer. Over the years there has been development in the areas of- facility, transportation, administration, communication, delivery and variety of programs and staff hiring practices.
Over the last 30+ years, Crestwood has provided tens of thousands of campers and staff a unique camp experience that promotes building self-esteem, personal skills, friendship, social networking, fun-filled activities and lasting memories. Many camp alumni send their children to Crestwood to give them the same everlasting experience they had growing up.
Directors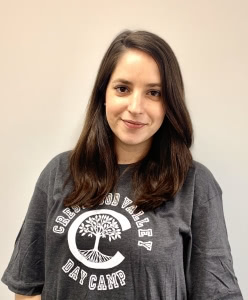 Reide Pastor-Baranek, Director
Reide has been at Crestwood for 30+ years. She started as a young camper and has worked her way up the ranks starting as Counsellor, then Office Administrator and current role as Director. If anyone knows every aspect of Crestwood operations and programs- it's Reide!
Reide plays a key role in camp communications, administrative policies and procedures, staff development, recruitment, programming, nutrition and technology advancements. Reide provides mentorship and guidance to our Head Staff Team throughout the camp season. She is often seen working with campers who need some 'TLC' and keeping parents informed of a camper's progress at camp. Reide has a wealth of experience with all age groups and ability levels. She is available to give families camp tours and answer any questions or address any concerns that may arise.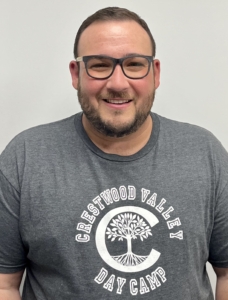 Evan Roth, Associate Director
Evan has been affiliated with camp for 25+ years as a Camper, Counsellor, Activity Specialist, Unit Head, Program Director, Assistant Director, and Camp Director. Evan brings a contagious positive attitude and a wealth of knowledge, experience and skill to Crestwood.
Prior to joining the Crestwood family, he was the multi-campus Camp Director at The Jack and Pat Kay Centre Camp (Schwartz/Reisman Centre and Prosserman JCC). Evan was also the Assistant Director of Operations at Camp Northland-B'nai Brith – his camp home of 20 years. Throughout his career in camping he has refined his skills in operations, programming, camper care, budget and finance, and customer service. His enthusiasm for camp, and its power to shape and transform lives is infectious to all those around him.
Evan has served in several volunteer roles at the OCA. He was elected to the OCA Board of Directors last year, and since 2015 he has been a Senior Standards Visitor and a member of the Educational Programs – Annual Conference Committee. Evan also now sits on the Standards Accreditation Committee.  Outside of camping, Evan is a volunteer Chapter Advisor with BBYO, where he mentors teens to help them reach their full potential and grow into dynamic community members. He is also a passionate Maple Leafs and Blue Jays fan, a Seinfeld expert, and a commercial aviation enthusiast! He can't wait to experience another summer at Crestwood!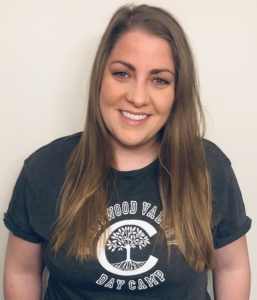 Katie Bookman, Assistant Director
Katie has worked at Crestwood Valley Day Camp for the past 20+ summers. She has worked in many different capacities from activity specialist, unit head, office administration to speciality coordinator. She is thrilled to be returning as the Assistant Director.
Katie graduated with her Bachelor of Education and has been a member of the Ontario College of Teachers since 2008. Her focus has been teaching primary students, as well as students with special needs.  With her abundance of both camping and education experience, Katie can't wait for next summer! She will be working directly with our staff team and campers- bringing exciting new training, programming and fun to Crestwood Valley Day Camp!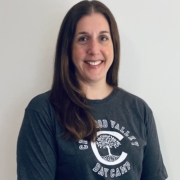 Carla Dunning, Assistant Director
Carla has been a part of the Crestwood Valley Day Camp family as a staff member and camp parent for the past 25+ summers. Carla has worn many hats over this time. She was a camp counsellor, unit head, office administrator, LIT/CIT Coordinator and has been a great mentor to hundreds of staff members over the years. She is a great supporter of campers and their families.
During the school year, Carla is a Teacher with the Toronto District School Board. She has taught a variety of grades, ages and abilities over a 2o+ year period. Carla is a mother of four teenagers who have all been at Crestwood since they were old enough to attend.
In the role of Assistant Director, Carla will be training staff, working closely with all Senior Staff and communicating with parents. We are thrilled to welcome Carla back to camp every summer!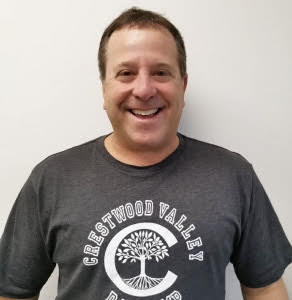 Eric Shendelman, Camp Consultant
Eric Shendelman was a Camp Director at Crestwood Valley Day Camp from 2005 – 2014 and 2020 – 2021, as well as Director of Camp Arrowhead from 1997 – 2004 in Innisfil, Ontario. Eric is a Past President and former Standards Chair of the Ontario Camps Association.
Eric is a member of the Canadian Drowning Prevention Coalition and sits on a variety of committees that utilize his expertise in Aquatics, First Aid and Crisis Response. He continues to work with several summer camps helping to develop their aquatic, first aid and safety management programs. Eric is the owner of Shendy's Swim and CPR Training Centres in Toronto, Ontario Canada (since 1992). He is a certified Lifesaving Society Instructor/trainer, Lifeguard Examiner/Trainer, First Aid Trainer, Safety Inspector and Auditor. Eric has helped draft policies with Ministry of Health representatives, the Canadian Camping Association and local school boards. Eric was also a Primary, Junior, and Intermediate school teacher who worked with the York Region District School Board over a 12-year period.
Eric's role as Camp Consultant will be to support the Camp Directors, Head Staff, and general staff in a variety of key areas that include, but are not limited to, Staff Training development, Emergency Response Training, Health and Safety procedures and updates, and program development. He looks forward to seeing the smiling faces of campers and staff next summer.
Reide, Evan, Katie, Carla and Eric are excited to provide a dynamic, fun, safe and friendly camp atmosphere where we can all grow together and build memories to last a lifetime! Remember, "At Crestwood We're All One Big Family!"
We are always available to talk so give us a call anytime at (416) 444-9595 or email us at crestwood.camp@crestwood.on.ca
Together, we are committed to providing the best camp experience for campers, staff and parents alike.